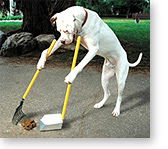 UNTIL YOU CAN TRAIN YOUR DOG TO DO THIS,
IT IS YOUR RESPONSIBILITY TO PROPERLY DISPOSE OF PET WASTE
Upon request, we are once again asking all residents to be considerate of their neighbors when walking dogs throughout the community.  Residents are responsible for removing any solid waste their pets leave behind, and disposing of it properly.
Cleaning up after your dog may not be the most inviting activity, but it will help prevent water pollution.
When it rains, your pet's "business" is washed down into the street and storm drain and into Lake Minnewashta and other waterways. This contaminates our rivers, lakes and streams with unhealthy levels of bacteria making them unsafe for recreation.
For pet owners, there are several options to keeping your pet's waste from being washed into rivers, lakes, and streams. The most common options for pet owners include carrying a plastic grocery bag or one designed for pet waste pickup (found in pet stores).
Tossing the bags with your pet's waste into the bushes or storm drains has the same effect, so please make sure the bags are properly disposed of in a trash container.