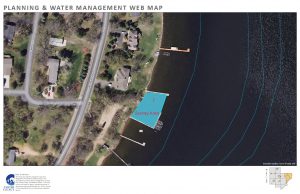 Carver County Water Management Organization
600 East 4th Street, Chaska, MN 55318
FOR IMMEDIATE RELEASE: Contact: Andrew Dickhart
952-361-1871
Invasive species specialists with the Carver County Water Management Organization (CCWMO) and Minnehaha Creek Watershed District (MCWD) confirmed the presence of a single adult zebra mussel in Lake Minnewashta during a zebra mussel survey on Thursday, June 28th. Snorkelers spotted the lone zebra mussel about a hundred feet from shore in a sandy-bottom area of the lake near a private water access. Scuba-divers with the MN Department of Natural Resources also joined the survey effort by scanning the lake bottom in areas with greater depths, but only the one invasive zebra mussel was found.
Zebra mussels were first discovered in Lake Minnewashta in 2016 and again in 2017 at the public boat launch at Lake Minnewashta Regional Park. Thanks to MCWD's and CCMWO's aggressive aquatic invasive species monitoring programs, the mussels were discovered early enough both times for rapid response treatment to take place.
County and Watershed District staff will continue conducting surveys and utilize new techniques that monitor for zebra mussel larvae and presence of zebra mussel DNA to determine if populations are present in other areas of the lake.
Lakeshore property owners can help by checking for zebra mussels on their docks & water related equipment, and along their shorelines.
This is a reminder to boaters and anglers to follow Minnesota laws to prevent the spread of aquatic invasive species:
• Clean aquatic plants and animals from watercraft, trailers, and equipment.
• Drain all water by removing drain plugs and keep drain plugs out while transporting
watercraft.
• Dispose of unwanted bait in the trash
EDIT: Please launch your watercraft only though the Lake Minnewashta County Park where inspections are performed to prevent the spread of invasive species.